42 YEARS FLY BY WHEN YOU'RE HAVING FUN!
There are several dates in my life that carry special meaning to me.
October 23, 1993 – The day of my accident.
May 25, 1996 - The day my wife Jill and I were married.
July 30, 1999, July 3, 2001 and August 12, 2003 – the birthdates of our three boys Sam, Mason and Grady.
Today is another special date. Today we remember the founding of Stebnitz Builders and celebrate turning 42 years old!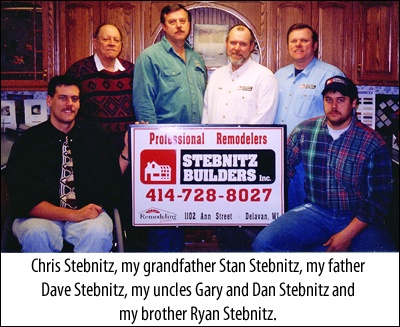 For those who have not heard the story, yet, my grandfather, Stan Stebnitz started the business in Delavan back in 1972. My grandfather knew how to build and remodel homes. He also knew how to create an experience for his clients that was as important to achieve as the impeccable finished product was.
In 1986, his sons Dave, Gary and Dan bought the business from him and expanded it beyond anyone's expectations. In 2009, I was fortunate enough to purchase the company and carry the torch.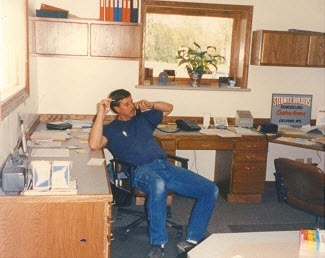 My dad, Dave, hard at work as a Production Manager, shortly after we moved in to our original Ann Street Showroom/ Office. Circa 1988.
Throughout the transformation of the company over those 42 years, we have been successful at many things and created many lasting relationships with hundreds of clients. But, regardless of the size of the project - window replacement or whole-house remodel project - the focus has always been on that relationship with the client, starting with the experience they have from their first phone call to the follow-up contacts years after the project is completed.
So, today we celebrate turning 42 years young and remember my grandfather and the lessons he taught us which helped make this company great. We recognize the current and many former team members who have been instrumental in furthering my grandfather/ father and uncles' visions. And most importantly, we thank the hundreds of clients that have put their trust in Stebnitz Builders to be their contractor of choice and thoughtful stewards of their most important investment, their home.
Here's to a wonderful 42!
Cheers!

Chris Stebnitz
Grandson,
Son,
Nephew,
Current keeper of the Stebnitz Builders torch.
42 Years Ago
If you haven't been to our new office/ showroom, stop by and see us. We'd love to share more of the 42 years of stories and history with you. We're located at 204 Commerce Suite #3 in Elkhorn, only 5 minutes from our old facility. Here's an easy way to get there click here.

You Might Also Be Interested In: