Bathroom Design: Walk-In Showers
Bathroom Remodeling & Design: Walk-In Showers
Building or renovating a bathroom involves many decisions regarding finish materials and fixtures, especially a bathroom with a custom shower. Walk-in showers are large showers that can either be created from scratch or built using premanufactured pans and wall panels sold as kits. While the latter do not require any special considerations since the panels and pan are installed straight on top of the subfloor and drywall, custom-build walk-in showers require physically challenging preparatory steps in order to get the floor ready for the shower itself. A walk-in shower is one that is spacious and open rather than cramped and cubicle-shaped. Some walk-in showers are designed for disabled individuals who have difficulty getting in and out of a bathtub. Other walk-in designs are mostly for aesthetics, with tiled mosaics, glass walls or doors, multiple shower heads and areas for sitting or setting down shower products.
Type of Walk-In Showers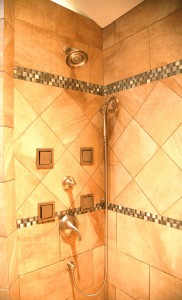 Doorless Walk-in Showers
Since the basic design of a walk-in shower is meant to give the illusion of extra space, glass walls are used to visually open up the shower. Some larger walk-in showers do not have doors that open. Instead, there may be a curtain that can be pulled back easily for an elderly or disabled individual. Glass walls make a bathroom look larger, but they can be a little more difficult to keep clean.
Shower and Tub Combo
The shower and tub combination is very popular in newer homes. It is more common to see this combination in smaller bathrooms, where there may not be enough room for a separate shower and a bathtub. It looks like a large, round, Jacuzzi-style tub surrounded by glass doors and walls with a large, U-shaped cutout to step in and out of the tub. You can choose to fill the tub with water or just turn on the shower head.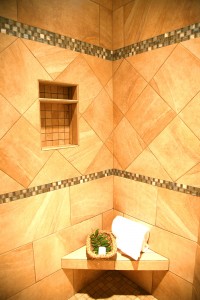 Handicapped Roll-in Shower
You can find the handicapped, roll-in style showers in public fitness centers and locker rooms. These showers usually do not have doors, which may be cumbersome for someone in a wheelchair. There are curtains instead, and no ledge near the bottom so that someone can easily roll in a wheelchair. A public handicapped shower may also have metal holding bars and lower faucet head handles for easy adjustment. The floor usually converges on a drain in the middle of the shower stall.
Wet Room Showers
These types of showers are popular in Europe and in upscale hotels across the world. A wet room tries to disguise the fact that it has a shower or tub at all. The walls of the walk-in shower are encased entirely in glass, without doors, curtains or frames. It is a very inconspicuous style with only a shower head and faucet handles peeking out of the wall. This is the ultimate type of shower for someone who doesn't like to feel closed in.
Stebnitz Builders is a full-service new custom home builder / home design remodeling firm operating in Elkhorn specializing in bathroom remodeling services in the Walworth County / Southern Wisconsin and Northern Illinois area. Want a beautiful walk-in shower? Contact us click here
Source:
http://homeguides.sfgate.com/prepare-floor-walkin-shower-49145.html
http://buildipedia.com/at-home/bathroom/how-to-install-a-tileable-shower-base
http://www.wisegeek.com/what-are-the-different-types-of-walk-in-showers.htm
You Might Also Be Interested In: