Stebnitz Builders is proud to be a family business.
My grandfather, Stan Stebnitz started the company in 1972. My father Dave and uncles Gary, and Dan Stebnitz, continued that tradition when they purchased it in 1986. Needless to say, I learned a great deal from these four men and I was excited to have the opportunity to continue the tradition when I purchased the company in 2005.
From the very beginning, we've focused our energies on remodeling homes the right way and with the right people. Our goal is to remain the very best listening company in order to provide a beautiful home and a wonderful experience for our clients. From the first conversation to the last day in your home, it's crucial we keep a laser focus on being a world-class listener. It's the only way we know to ensure we deliver the home you want and the experience you deserve.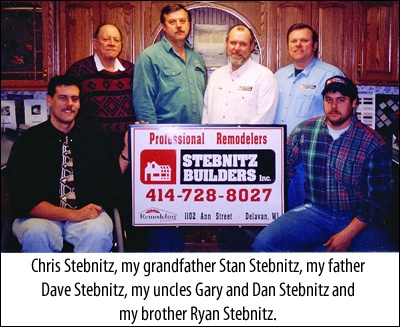 circa 1995
To do this, we are committed to surrounding ourselves with team members who are the best in their field. Designers, Remodeling Consultants, Trade Partners, and, of course, our team of craftsmen. Many of my colleagues have asked how we've built such a large team of like-minded, driven teammates. The answer is simple and may sound a bit trivial or corny. But, it's true. We treat every associate as if they were family.
As we continue to open opportunities for new members to join our team, I was asked to jot down a few of the ways in which we are providing for our team members. One way we've done this is through the benefits we offer.
For our carpenters, we offer traditional benefits such as:
However, we do not stop there. Our carpenters all receive these benefits as well:
- Gap Pay -
We offer gap pay because we understand there are many things outside our control that keep our carpenters from being able to earn the wages they need to reach the life goals they hold.
Weather delays
Product delays
Or even simply waiting for a trade partner to complete their portion of the project before we can continue.

Gap pay allows our carpenters a safety net of 40 hours a year to be paid out as they may need to fill the Gap for a full 40-hour week. This better ensures our team does not suffer for things beyond their control.
- Employer-Sponsored Carpenter Investment Account "CIA" Program -
Our CIA program builds a cash reserve for our carpenters to reinvest in themselves and grow or replace the tools of the trade. One of the challenges a carpenter faces is obtaining and maintaining the tools necessary to function at an elite level on every project. This program affords our carpenters a path to not only growing the stable of tools they perform best with, but it's also there to replace those tools as needed.
- A Gas Allowance and a Phone Allowance
- An Employer-Matched Retirement Program
While we love working with our team today, we know we are a temporary stop and that everyone is looking forward to retirement and spending more time with family and friends. Our Employer-Matched Retirement Program gives our team the opportunity to start saving for their retirement earlier in their careers. They can take money out of their paycheck and put it towards their retirement IRA. We then match their contributions up to a certain percent, which allows our carpenters to jumpstart their savings and get closer to retirement.
If you are a carpenter, interested in joining our team, simply click here and fill out the application for employment. I'd be happy to read it, listen to your goals for employment, and determine if we might be a good fit for each other.
Thanks for listening!