Stebnitz Builders Offers Scholarship at Local High Schools
We are offering a $1,000 scholarship opportunity for area students entering the skilled trade field after high school graduation. These fields may include carpentry, plumbing, electrical, heating and cooling or other industry-related careers. The scholarship opportunity was created out of our commitment to area students and the construction industry.
Stebnitz Builders, along with so many others in the construction industry, have experienced the effects of the skilled labor shortage in the construction industry. When the recession hit in 2008, 600,000 workers, nationwide, left construction jobs never to return. With the combination of an aging workforce, this number continues to grow. We recognize the best way to combat the shortage is attracting young talent entering the field, which is why we have directed our efforts at participating in Youth Apprenticeship programs and by creating a scholarship opportunity for graduating students pursuing a career in the skilled trades.
"The YA program provides high school students the opportunity to experience careers in a hands-on way and allows students to understand what a future in a specific career offers," says Chris Stebnitz, 3rd generation owner of Stebnitz Builders. "We couldn't be more pleased to offer this experience and scholarship opportunity to the students of Walworth County."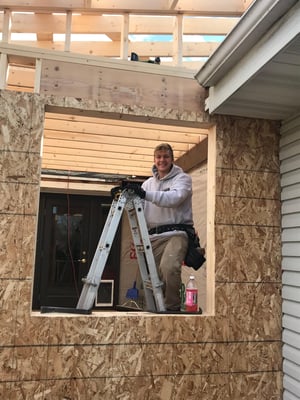 We have had success with the Youth Apprenticeship program at Elkhorn Area High School. In 2019, Grant Schaeffer, an Elkhorn Area High School student, joined the Youth Apprenticeship program. Grant attended classes at school in the morning and worked as a carpenter's helper in the afternoon. He received school credit and a paycheck for on-the-job training. Grant learned to cut and install baseboard and shoe molding, assist in wall framing, and assisted with demo work at the start of projects. After graduating high school in 2020, Grant started working full-time with us.



We are pleased to offer a $1,000 scholarship to a graduating senior in Walworth County looking to further their education in a trade-related field. Graduating seniors at the following schools are encouraged to apply: Badger High School, Big Foot High School, Delavan-Darien High School, Elkhorn Area High School, East Troy High School, Faith Christian School, Whitewater High School, Williams Bay High School and Career College Academy. The deadline to apply for the Stebnitz Builders scholarship is March 1, 2021. The application is found at https://cfsw.org/scholarships/
You Might Also Be Interested In: