Bath-Shower Conversion - Sterling Plumbing by Kohler
I am more than a shower. I am the model for an easy remodel. A sure-fire way to make bath-shower conversion a snap. I am a simple way to liven up the space. An that's my sidekick. A stylist seat as inviting as it is versatile. I am the Ensemble 60" x 32" shower featuring a new freestanding seat. Come on in and make yourself comfortable.
Perfect for replacing an existing 60" x 32" bathtub/shower, this Ensemble end drain shower fits the same footprint and drain configuration as your old unit. It is the ideal remodeling solution for those who no longer need a bathtub or who now want to have a lower threshold to step over.
Standard 5 foot (60") shower module
Made of solid

Vikrell

® material for strength, durability, and lasting beauty
Caulk-free, making installation a snap and reducing the need for long-term maintenance
Innovative Dry-Block™ seal and channeled water containment system form watertight seams
Modular design allows it to be moved around corners and through doorways with ease
Curve wall with smooth look and feel
Includes a shaving ledge/foot rest
Convenient shelves provide generous storage space
Durable high-gloss finish provides a smooth, shiny surface that is easy to clean
10-year consumer/3 year commercial limited warranty
Conforms to ANSI Z124.1.2 and CSA B45.1 National Consensus Standards
Inspired Living Spaces for Every Stage
Innovative Aging in Place designs by Sterling make it easy for people to live inspired, active lives in comfort and style at any stage. Kohler offers a comprehensive selection of kitchen and bath products that adapt to homeowners' changing needs over time.
Aging in Place or ADA-Compliant?
Aging in Place products, unlike STERLING ADA-compliant products, are not required to meet specific size and accessibility standards required for commercial buildings. As a result, Aging in Place products are able to deliver fresh, inviting designs, while providing comfort and security.
Planning Ahead
Aging in Place products offer features, like preinstalled backerboards for anchoring grab bars, that prepare your home for tomorrow without intruding on your life today. With removable shower seats, low-threshold baths and chair-height toilets, Aging in Place products offer convenience and accessibility for every stage of life.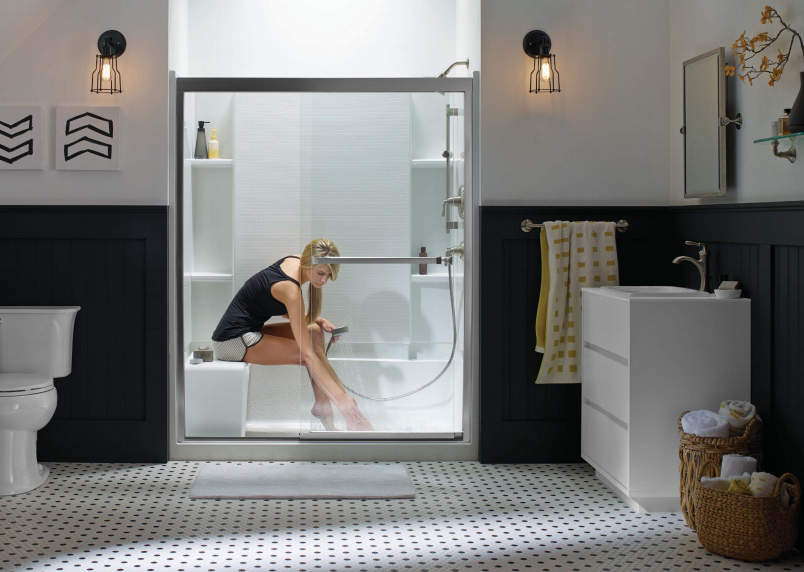 You Might Also Be Interested In: