Booth Lake Exterior Home Remodel Facelift in East Troy, WI | Mortise & Tenon Framing
This Booth Lake home had a few drainage issues that needed to be resolved, but one thing was clear, the homeowners knew, with the proper design features, their property had amazing potential to be a fixture on the lake.
Starting with a redesign of the back yard, including retaining walls and other drainage features, the home was then ready for a radical facelift. We redesigned the entry of the home with a timber frame portico/entryway. The entire portico was built with the authentic artistry of a mortise and tenon framing method. We also designed and installed a new deck and patio facing the lake, installed an integrated driveway and sidewalk system throughout the property and added a splash of evening effects with some beautiful architectural lighting around the house.
Lastly, the original detached garage was razed and will be rebuilt with a new design that not only suits our client's needs, but is designed to complement the home's new look.
Follow along with Stebnitz Builders during this exciting exterior home remodel in East Troy, Wisconsin:
CAD Drawings of Exterior Home Remodel
July - November 2014 Photos
December 2014 Photos
March 2015 Photos
April - May 2015 Photos
What Are Mortise and Tenon Joints?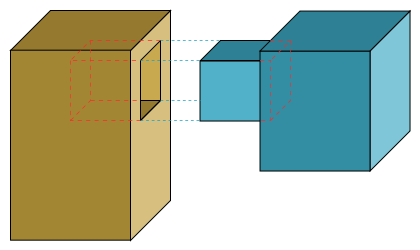 The mortise and tenon method of jointing two pieces of wood or stone has been used for thousands of years. The first dates back over 7,000 years ago, when tusked joints were used to structure a well in Leipzig, Germany – the world's oldest intact wooden structure.
One significant benefit to this process of joining wood components, such as beams, brackets, roof frames and struts, were made to interlock with perfect fit, without using fasteners or glues and it allowed the wood to expand and contract according to humidity.
Mortise and tenon jointing was chosen for this project because of the clean look it provided with no nails or screws showing and its ability to expand and contract without cracking or gapping.
Additional Facts:
The massive main beam weighs in at over 500 lbs.
Each mortise and tenon joint required over 25 separate cuts to create the perfect fit.
You Might Also Be Interested In: