Stebnitz Builders Receives Houzz's 2016 "Best Of Houzz" Award!
Annual Survey and Analysis of 35 Million Monthly Users Reveals Top-Rated U.S. Professionals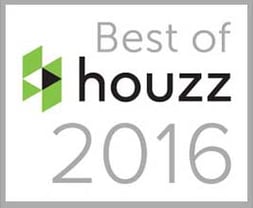 Stebnitz Builders received their fourth "Best Of Houzz" award by Houzz®, the leading online platform for residential remodeling and design. With only 3% of Houzz Professionals receiving this recognition, Stebnitz Builders continues to stand out as an elite remodeling experience for homeowners they serve.
The Best of Houzz 2016 title was given out to a select few remodeling professionals by the more than 35 million registered members of the Houzz community. Stebnitz Builders, once again, was ranked in the top of their class in the Customer Satisfaction division. Professionals are chosen based on homeowner members who rated their experience working with remodeling professionals.
"In our continuing effort to be the very best listening company, we have increased our focus to include the many new ways our clients are communicating daily. Social media continues to be a significant method of communication and Houzz is one of the many ways our clients regularly reach out to us," Chris Stebnitz, owner of Stebnitz Builders, said.
"Houzz provides homeowners with an in-depth, 360-degree view of building, remodeling and design professionals through images of their work, reviews and an opportunity to interact with them directly in the Houzz community," said Liza Hausman, vice president of community. "We're delighted to recognize Stebnitz Builders among our "Best Of" professionals for the fourth year. The exceptional customer service they provide is judged by our community of homeowners and design enthusiasts who are actively remodeling and decorating their homes."
With Houzz, homeowners can identify not only the top-rated professionals like Stebnitz Builders, but also those whose work visually aligns with their own design goals. Homeowners can also evaluate professionals by contacting them directly on the Houzz platform, asking questions about their work and evaluating their responses to questions from others in the Houzz community.
Along with their work on Houzz, Stebnitz Builders has been active in several other specific social sites including Facebook, Pinterest, Twitter, Google+ and YouTube. To find Stebnitz Builders on any of these sites, simply search their name on the site and you'll be directed to a page packed with DIY ideas, human interest, timely community information, even a little humor and great ideas on how to operate your home.
Follow Stebnitz Builders on Houzz at www.houzz.com/pro/stebnitz/stebnitz-builders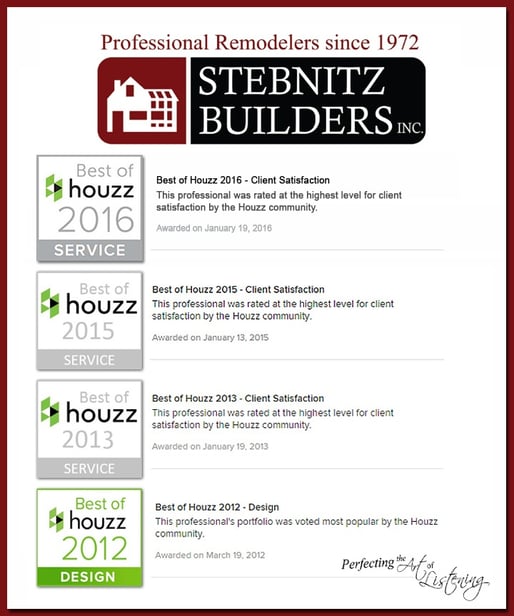 About Stebnitz Builders
Stebnitz Builders is a full-service, design-build remodeling firm, operating in and around Walworth County and Northern Il since 1972. Whether remodeling kitchens and bathrooms, adding on to a home, completely renovating a home or simply maintaining it with a meticulous handyman service, our focus is to be the very best listening company, translating in to a memorable remodeling experience for our clients.
About Houzz
Houzz is the leading platform for home remodeling and design, providing people with everything they need to improve their homes from start to finish – online or from a mobile device. From decorating a small room to building a custom home and everything in between, Houzz connects millions of homeowners, home design enthusiasts and home improvement professionals across the country and around the world. With the largest residential design database in the world and a vibrant community empowered by technology, Houzz is the easiest way for people to find inspiration, get advice, buy products and hire the professionals they need to help turn their ideas into reality. Headquartered in Palo Alto, CA, Houzz also has international offices in London, Berlin and Sydney. For more information, visit www.houzz.com
---
Houzz Announces "Best Of Houzz 2016" Winners
January 12, 2016
Houzz Inc.(www.houzz.com), the leading platform for home renovation and design, today announced the community's picks for Best Of Houzz 2016 in North America, a homeowner-to-homeowner guide to the top home builders, architects, interior designers, landscape pros and other residential remodeling professionals on Houzz from cabinetry or roofing pros to painters.
"Anyone building, remodeling or decorating looks to Houzz for the most talented, competent and service-oriented professionals," said Liza Hausman, vice president of Industry Marketing for Houzz. "We're delighted to join our community of homeowners and design enthusiasts in recognizing our "Best Of Houzz" professionals around the world."
READ MORE AT http://www.houzz.com/press/164/Houzz-Announces-Best-Of-Houzz-2016-Winners-
---
You Might Also Be Interested In: