The Soundtrack of Your Remodel
Certain things in life put us in a better mood, no matter the circumstance. For some, it can be cooking a favorite meal. For others, it is going for a long walk. However, one of the best ways I know to brighten my day is by throwing some music on my speakers. I know there are many people who feel the same way about the power of music.
The power of music has a definite place in the construction industry. On any given weekday, there are construction sites across the country with music being played. With that in mind, I spoke to our field team about the importance of music in their lives and on our project sites. The results of my mini-survey were interesting.
If you are a, "I listen to all types of music!" person, our team is the one for you because we have quite the eclectic taste. Of our 16 carpenters, they listed six different genres of music they typically play while they work. Many of them told me the radio or speaker was one of the first things fired up when they arrive at their project. Here are the popular genres of music that our team listens to: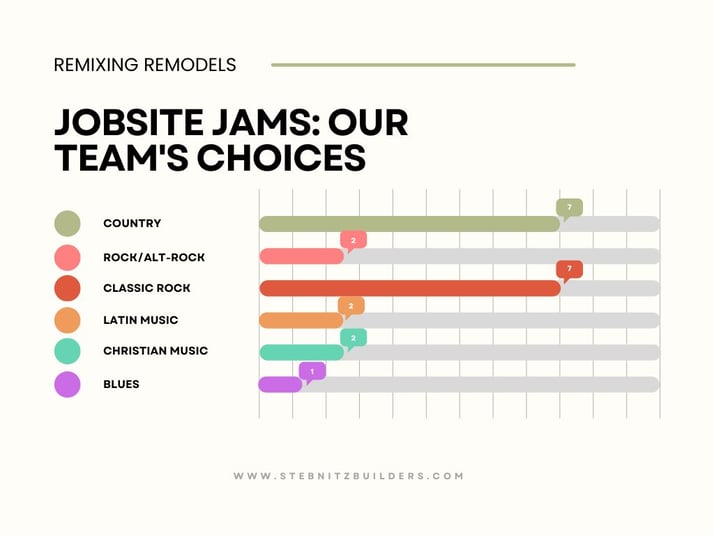 So how is the music chosen for the day?
Our production carpenter, Grant, told me that the type of music he plays is determined by the mood his lead carpenter, Jerry, is in. "Sometimes, I need to turn on some alternative rock because I can tell that Jerry needs a boost in energy. When that comes on the speaker, we start to really click as a team."
When we keep teams together in the field they start to really understand how to get the most out of one another, and clearly one of the ways to do that is through music.
"When that comes on the speaker, we start to really click as a team."
Our team was also quick to point out when they believe certain guys have great taste in music. Our carpenter, Alonso, complimented Jack's ability to play great music. This is a significant compliment in Alonso's world, as he listens to ALL genres of music, including Latin music and "any song by Tom Petty".
I asked Jack which artists he enjoys listening to most on the job site and when he showed me his playlist, it was heavy with a country influence. Jack said, "I listen to singers like Cody Jinks, Tyler Childers, and Zach Bryan. I enjoy their music and I like to share that with the guys I am working with."
If you haven't heard these musicians, yet, our guys think you need to give them a listen and hear them for yourself.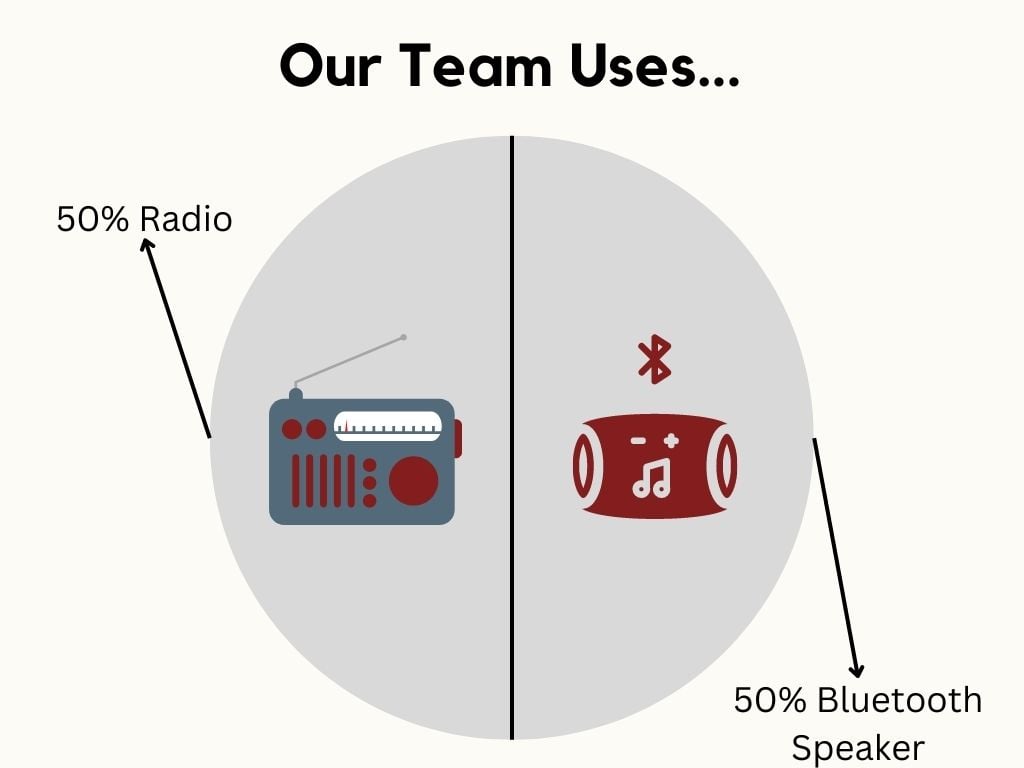 Another interesting thing I learned while I was talking to our field team, is that we still have lots of guys that prefer listening to the radio throughout the day. With the invention of smartphones and Bluetooth speakers, many people have shifted to apps that allow them to listen to their music commercial-free. However, 50% of the guys I talked to told me they still set up their job site radio every morning when they arrive. Our lead carpenter, Denny, said, "It doesn't matter what station I put on the radio, as long as I can find one without static."
Some of our guys also use music to relate to the things that are important to them. Our lead carpenter, Dirk, said that he enjoys listening to Christian music in the mornings because it, "puts him in the right mindset for the rest of the day." Dirk's faith is important to him so he uses music to stay connected to it while he's working. Our carpenter, Blaine, told me he often finds himself singing while he is working because he spends his Sundays singing in his church's choir. Singing on the job site allows him to practice and enjoy his passion while working at another passion of his.
Music helps our team work more efficiently and brings guys together in the field. It allows them to combine their love of music with their passion for remodeling. It might go unnoticed, but when you hire a Stebnitz Builders crew to remodel your home, music will most likely be played, providing your team with an extra skip in their step and a special camaraderie on your project.