Fall Home Maintenance Tips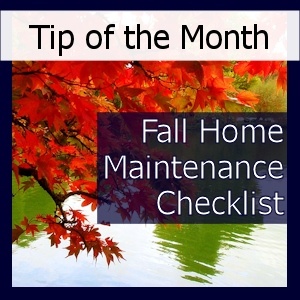 It's time to get your house ready for the winter weather on it's way. Yes, we hate to be the bearer of bad news, but cold, snowy weather will be here before we know it and if your home isn't ready, you could be looking at some expensive issues. Here's our Top 10 Fall Home Improvement Tips to protect your home.
Caulk windows
Be sure to caulk around windows and doorframes to prevent heat from escaping. It's the least expensive maintenance tip that can keep water from infiltrating window and door openings, causing mold and deterioration.
Check for peeling paint
If your house has paint peeling, this is a sure sign that your house is defenseless. You don't want that siding exposed, only to be worn away by the weather's elements.
Inspect the roof
Missing, cracked or curled shingles are your signal to look at replacing your roof. A roof without a tight seal is a magnet for water damage INSIDE your home. If you are looking at a new roof, don't just install shingles over the top of the old. Your roof can only hold a certain number of layers and many shingle manufacturers will only warrant their product if it's installed properly and not on any more than their allowed number of layers - again, usually one layer. Also, make sure the existing layer is very flat, or you'll see all the bumps from the old roof in your brand new one.
Clean the gutters
If you don't have a gutter cover, make sure to inspect your gutters and clear out all the debris before the snow falls and we see the freeze/ thaw cycles, causing major back-ups in clogged downspouts. This often leads to more roof issues and water infiltration in to the house.
Seal the driveway cracks
Freezing and thawing in these cracks will only create larger cracks in the spring, compromising the structure of the driveway.
Prepare your fireplace
It's been a while since anyone fired that baby up, so get it ready for that first frigid night when you want to curl up in front of a fire. Examine your wood stove or fireplace insert's door gasket for a tight seal and contact your HVAC professional to inspect your gas fireplace for leaks and proper venting.
Reverse the ceiling fan
Change the direction of your ceiling fan to create an upward draft that redistributes warm air from the ceiling. Also, clean your humidifiers regularly during the heating season. Bacteria and spores can develop in a dirty water tank resulting in unclean moisture misting out into your room.
Cover your Air Conditioner and turn off the breaker
Vacuum internal parts of air conditioners, remove units from windows or wrap the outside box with an approved tarp or plastic air conditioner cover, like this one from Frontgate (www.frontgate.com), to prevent rusting of vital parts. Make sure to flip that breaker switch for your air conditioner, too. The last thing you need is for someone to accidentally flip the thermostat and call for air in a warm house. With the A/C covered or even snow-covered, you could be asking for a fried-out A/C unit motor or worse.
Clean your yard equipment
When you're done mowing – clean it up and put it away. There's not a better feeling that knowing you're off the hook from mowing for the next few months! This includes draining fuel from all gas-operated equipment such as your lawn mower, leaf blowers, and chain saws. Then, check to see that all of your snow equipment is up and running before the first flurry falls. Organize your snow clearing gear. When snow arrives you'll want to have shovels, roof rakes, and snow blowers where you can get to them and not fumbling around for them in the freezing weather.
Prepare your deck for winter
Clean your porch and deck furniture, and look for any needed repairs. Cover and store outdoor furniture and barbecues in a protected area. Make sure all soil is emptied from pots and planters. Dirt left in clay pots will freeze and cause the pots to crack if left outside.
If you need help completing YOUR fall checklist in time, contact Stebnitz Builders at 800.410.8027. Our carpenters are trained to manage these very tasks and can prepare your home for whatever mother nature throws at it.

You Might Also Be Interested In: