How Much Does a Kitchen Remodel Cost in the Lake Geneva Area?
We spend a great deal of time in our kitchens - and not just for eating. It has become the heart of the home. It's part of how we entertain. It's a communication hub for our family. It's also used as a place of respite at the end of a busy day. Because we have so many uses for the kitchen, it's important to have a space that best fits those needs, complete with the latest amenities and design function. For this reason, kitchens remain the most popular room in the home to remodel.
Have you considered remodeling your kitchen in Lake Geneva, Williams Bay, Fontana, Delavan, Elkhorn or the general Walworth County area but not sure how much to budget? You're not alone. It's usually the top question people have for us when planning their project. We have some great guidelines and industry insight to help you through the budgeting process.
There are a number of variables to take into consideration when determining the approximate cost of a kitchen remodel. Does the kitchen need to be redesigned? Which cabinet is the best choice for you? Is the current flooring and lighting outdated, worn or insufficient?
In order to provide you with an idea on cost, we'll use Remodeling magazine's 2018 Cost vs. Value report, which offers estimates for the major US metropolitan areas, with Milwaukee being the closest to our service area. Remodeling's report for a kitchen remodel is based off a 200 square-foot kitchen with 30 linear feet of cabinets. They break the project cost down down into 2 categories, upscale and mid-range. The average cost for a mid-range major kitchen remodel is $65, 692 and the upscale major kitchen remodel is $130,670. These prices are right in line with what we are experiencing with our current kitchen projects.
What's Included in that Price?
Design, labor, materials, flooring, countertops, fixtures, permits and painting are typically included in that price. The cost of your kitchen project is highly dependent upon the size of your kitchen, the level of finishes you choose, and the complexity of the project. Keeping the same layout and considering different options for materials can help keep a kitchen project in that mid-range price point. Below are two examples of kitchen projects that were approximately $60,000 but entirely different scope and materials.



The kitchen to the right was approximately $60,000
This included the following:
Removal of wall where the snack bar currently sits and opened up the ceiling to expose beams. New cabinets, granite countertops, backsplash, lighting, appliances, Luxury Vinyl Plank flooring, plumbing fixtures and painting. We also changed the locations of the appliances when designing the space.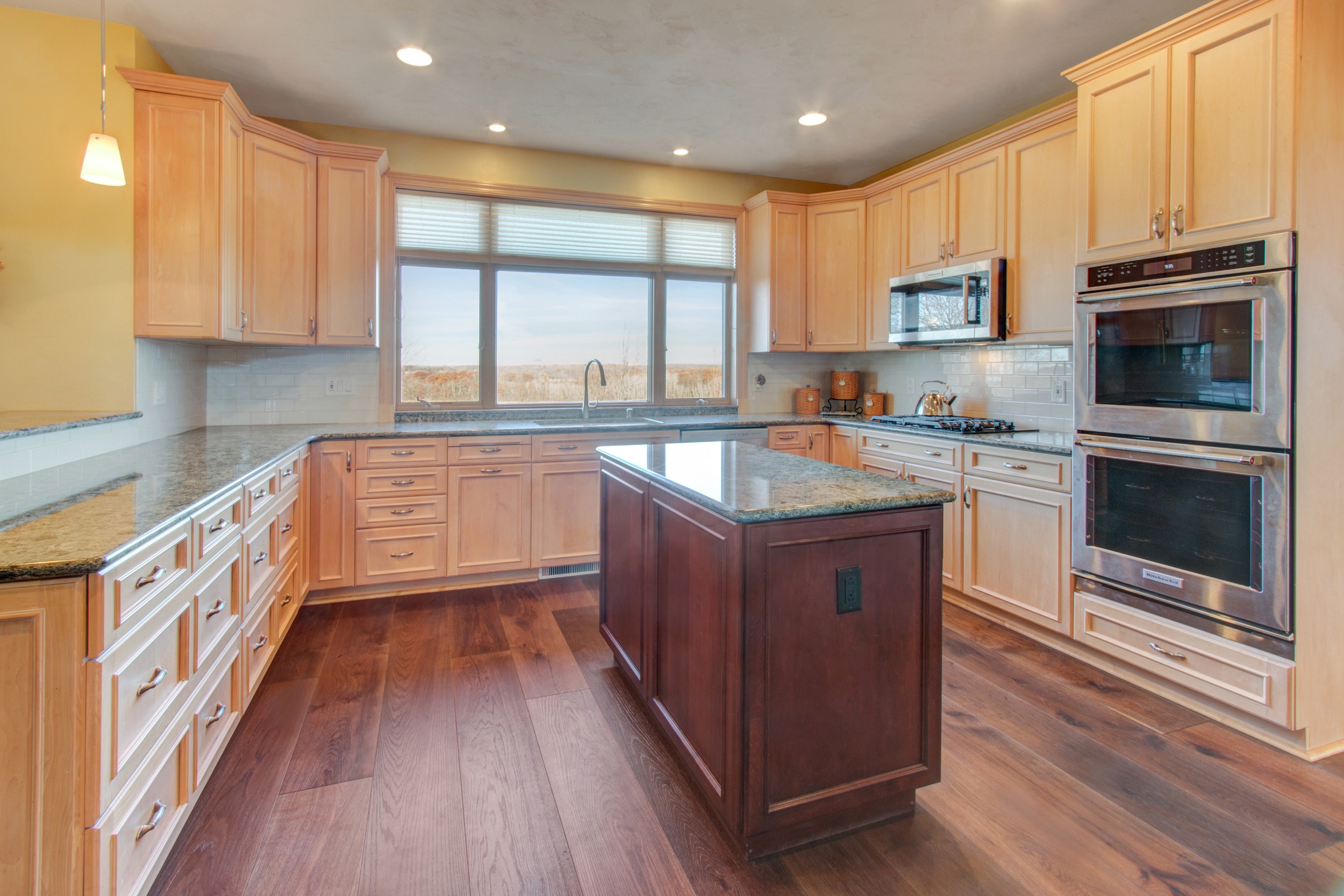 The kitchen pictured above used the existing cabinets but received new Cambria quartz countertops, backsplash, high-end wood flooring, appliances, sink, plumbing fixtures and painting. This kitchen was also approximately $60,000.
What Factors Can Affect Cost?
Custom Cabinetry and Hardware: Custom cabinets have no limitations. You select the style, materials and finishes. Stock cabinets come in predetermined sizes and if a cabinet doesn't quite fill the space, you'll have to add a filler piece to close the gap. Custom cabinets are built to specifically fill the space, eliminating the need for fillers. Furniture style cabinets with feet at the sink base are trendy but will add to the cost.
Re-configuring Spaces: Kitchens in older homes may have been very functional when they were built, but as life has changed and the way we use our kitchens has certainly changed, most do not have the modern features homeowners are looking for today. Expanding and removing walls into living spaces is a great way to add to the function of your kitchen. But, keep in mind, that can increase the budget substantially.
Additional Plumbing and Electrical: Changing the location of the appliances can involve moving water and gas lines plus adding electrical outlets, which can increase the budget.
Luxurious Features: Adding radiant heat to the floors, an oversized island that seats 8 or more people, double sinks and built-in appliances can all make your kitchen stand out but they also add to the budget.
For most, the kitchen is a integral part of life, and with so many options available to make that space the very best it can be, planning is critical. It truly pays to work with a professional designer to make the most out of the space you have and the budget your most comfortable with. It's a project most people only do once, so while considering the cost of your kitchen remodel project, make sure your money is well spent and enjoy the space for years to come.
Ready to talk about your kitchen? Give us a call at 262.723.7232 or fill out this form to get started!
You Might Also Be Interested In: