Tips for keeping your fridge clean, cool and efficient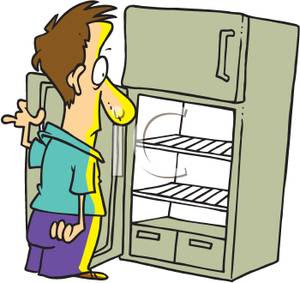 Is it getting to be that time of the year again when you think to yourself, "I've really got to clean out the refrigerator"? For most people, cleaning twice a year is about all we'll need to feel good about things again. But
this article
not only will explain why a more regular cleaning regiment is essential, but it also points out the new products that will *GASP* clean itself!!
Another cleaning tip the article doesn't address is cleaning the condenser coils and condenser fan monthly.
The condenser coils are what keep the fridge cold. If they're clogged with dust, they can't work efficiently. The end result will be a refrigerator that doesn't keep cold foods cold, and an overworked motor that will need service more often – as well as a few dollars more on your electric bill each month. The coils are located either at the back of the refrigerator, or across the bottom of the front. If they're in front, you'll need to pop the grille off to get to them. If they're in back, just pull the refrigerator away from the wall. You can use a vacuum to clean them, but one of the best investments you can make is a refrigerator coil brush, which is specifically designed to get into all the crevices and spaces to gently clean away the dirt and dust.
If the coils are located on the bottom front, there's also a condenser fan (back coils don't need one, since they're exposed). You can access it from either the front or the back of the refrigerator, and clean it with the coil cleaning brush.
For those who really want to get after it and really keep their fridge operating at its peak,
this article
provides photos and easy step-by-step instructions to cleaning the entire fridge.
The truth is that by adding a few simple steps to your regular household cleaning schedules, you can save money on your electric bill, prolong your refrigerator's life and save yourself the expense of spoiled food and a repair bill when the fridge goes on the fritz.
You Might Also Be Interested In: