Lakeshore Living: Dutch Colonial Home on the South Sore of Delavan Lake
Article Published in the "At the Lake Magazine" | website: atthelakemagazine.com
When Jack and Nancy Hartung of Naperville, Illinois, bought a Dutch Colonial home on the south shore of Delavan Lake three summers ago, it could be said that they bought a house much like the ones movie makers use for exterior shots.
"It was a shell," recalls Nancy, an early childhood educator. "There were only two pieces of drywall up. I don't know why those pieces got chosen. When you were downstairs, you could see upstairs. You could see every room. Nothing was finished."
To "finish" their lakefront home, on the very lake Nancy's family has summered and spent holidays for four generations, the Hartungs enlisted the expertise of Stebnitz Builders. "We signed a contract in August, and I told them we would be celebrating Christmas there and needed it to be done. It got done. We had a lot of the ideas, but Stebnitz just made them better. I couldn't have asked for more from a builder. I just love this home."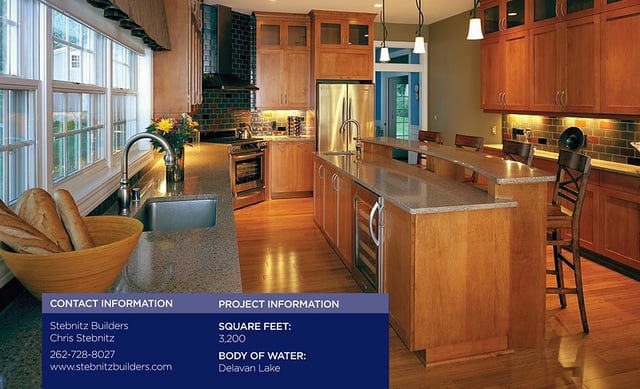 From the start, Nancy says, she, her husband and the project's designer, Dave Clark, a remodeling and design consultant with Stebnitz, were on the same page. Clark's ability to visualize a finished space and bring that concept fully to his clients in three-dimensional form helped the Hartungs make key decisions they knew they would not regret later.
"I have a unique way of visualizing things. I can walk into a space and visualize how it's going to look. I can bring my clients into it inthree dimensions, with perspective views," says Clark, "rather than them trying to see things in two dimensions. I want my clients to be able to see, feel and touch everything and not order things through a catalog or a print."
Creating a spacious kitchen for the Hartungs meant moving a wall. To achieve a light and inviting space, the project's designer, Dave Clark, used warm, soothing colors and fixtures. The kitchen features HanStone counter tops in a quartz chocolate cognac and bamboo wood flooring.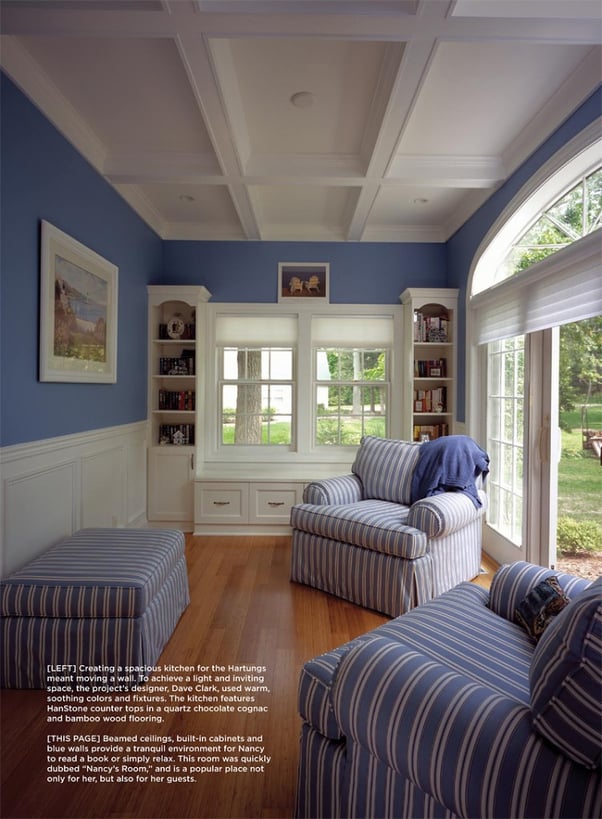 Beamed ceilings, built-in cabinets and blue walls provide a tranquil environment for Nancy to read a book or simply relax. This room was quickly
dubbed "Nancy's Room," and is a popular place not only for her, but also for her guests.

Clark, who has earned designations in Certified Graduate Remodeling and Certified Aging-in-Place Specialists through the National Association of Home Builders, even assured the Hartungs that they could, in fact, do what other builders had said would be too challenging — remove a major wall to enlarge the kitchen and install new trusses.
Removing the wall and creating a bigger kitchen, Clark explains, gave the two-story house a more open feeling and created a better flow from room to room. The first floor features a kitchen, dining area, powder room, family room and a special get-away room, dubbed the "Nancy Room."
"The carpenters and electricians all started calling it the Nancy Room. It has all the things I love and it's just a place I can go, off the kitchen, to read a book or relax. It has sliding glass French doors and beamed ceilings. It's just my little cozy Nancy Room. When my friends come up, they never want to leave that room."
The second floor holds five bedrooms, including the master suite. Clark even designed a floating wall that acts as a closet down the middle of the couple's teenage son's bedroom to afford them greater privacy. The second floor also boasts a main bathroom and streams of light from transom glass placed above all the bedroom doors. "We did that on the entire first and second floors. It's just a good way to filter light and to keep it light and bright," says Clark.
Jack, who is the chief financial officer for Chipotle, also has a room of his own. His room is in the basement, where Stebnitz created an oasis for this busy executive. The below-ground space features a home theater and a wine cellar. Clark accented the room with true theater touches, rescuing artifacts from the Delavan Theater like old film reels, which are used as wall art, and the theater's orchestra door, serving as the wine cellar door.
Clark says the diverging design tastes of the Hartungs (Jack favors modern while Nancy veers toward traditional), was never a problem. "There are ways you can find compromises that work for everyone, that make everyone happy," he says.
The Hartungs, who have been married for 28 years and have five children ranging in age from 14 to 25, are more than happy with their remodeled lake home. Nancy says the finished product far exceeded the dreams she had when they bought what was once an empty shell.
"From the beginning, there was no doubt in my mind that Stebnitz Builders was the way to go," she says. "Whenever we have a chance to get away someplace, I don't want to go any place but Delavan Lake. I love this home. I just love it."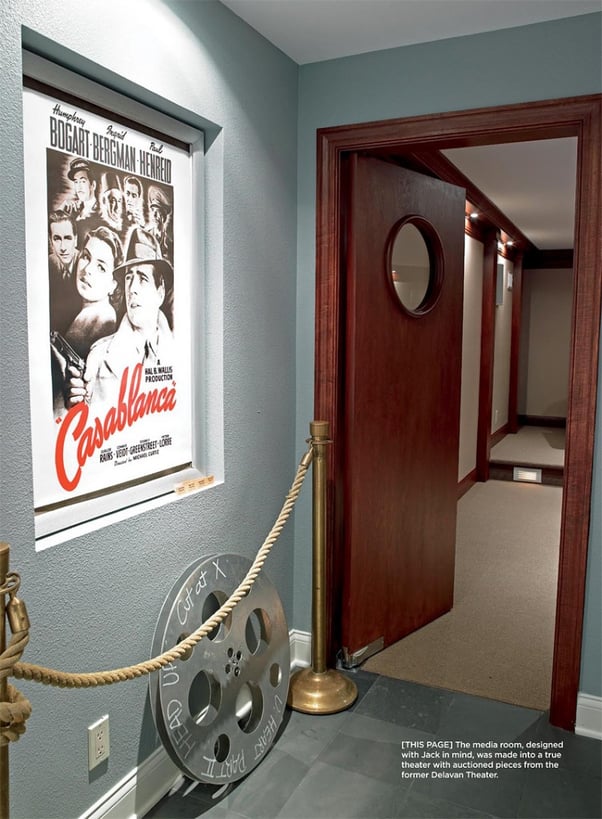 The media room, designed with Jack in mind, was made into a true theater with auctioned pieces from the former Delavan Theater.
You Might Also Be Interested In: