One of the most unique and enjoyable projects we've completed will be on display during the Lakeland Builders Association Parade of Homes Tour from 10am to 5pm on the weekends of July 28th/ 29th and August 4th/ 5th. There isn't a better a way to see this project than up close and personal. But, here's a sneak peek for our readers.
The only thing cooler than this house and it's renovated barn-turned-art-studio are its owners! The home has a secret room for the grandkids and a slide for them to get to the lower level in the most fun way imaginable. The beautiful elevator installed can easily get anyone and their cargo to any floor, quickly and quietly. Brazilian Cherry flooring throughout the house adds to the beauty and richness of the home. The 30-foot fireplace, enormous elevated ceilings and the antique iceboat hanging from the wall, truly make it "the great room". Lastly, the media room and master suite bath are just two options to "get away from it all" and relax.
Across the yard stands the 100-year-old barn-turned art studio. It's the perfect recipe for finding tranquility and artistic inspiration without losing the history and character of the barn. The barn's original structure was preserved. Original beams remain exposed in the studio - along with a perfectly perched purveyor of the studio. Even the original hay bale fork and trolley system remains operable, although no hay is stored in the studio ... :)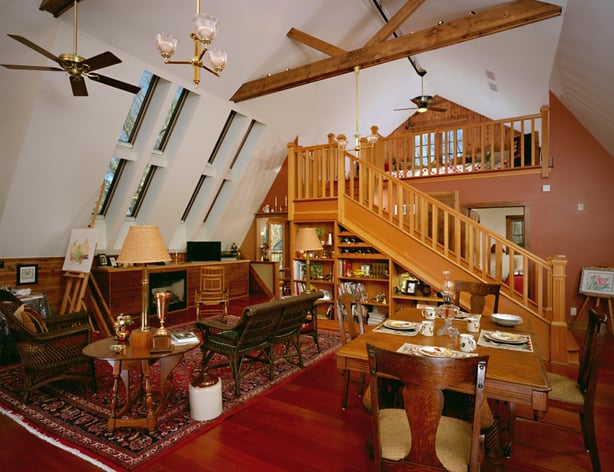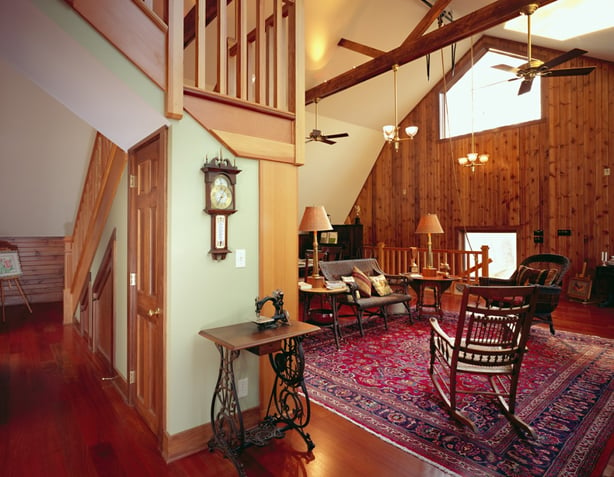 There are so many things that make our stop on the parade unique, but the biggest is that our client's home is the only home in the parade that was remodeled and not built new. Remodeling is a far different experience and takes a different skill set in order to renovate a home to better fit a client's lifestyle. Stebnitz Builders has been remodeling homes in and around Walworth County for 40 years now and we've seen just about everything in terms of unknowns and surprises. It's with that experience we can anticipate those surprises and insulate our clients from the worry and frustration surprises can bring. When you remodel your home, you deserve to have fun doing it. It's our job to ensure you have a wonderful experience.
This and so much more will be on display at our clients' home during the Parade of Homes. Visit our Parade Builder Page here for more information on the parade, our home and the opportunity to win great prizes, including a wine tasting for 10 at Pop More Corks in Lake Geneva and a Kindle Fire!
We look forward to seeing you there!
Stebnitz Builders

You Might Also Be Interested In: